Phonetic Hebrew-English Text
Transliterated Phonetic Hebrew-to-English text sample page from "Haggadah for the American Family"
One of the most appealing features of the
Berkowitz American Haggadah
is Rabbi Berkowitz's modern approach which creates a welcoming atmosphere for friends and guests to your Seder table. This is achieved by utilizing phonetic English translations of the Haggadah text as well as English instructions throughout the book.
The sample page shown below, entitled "The Four Questions", is Page 7 from "Haggadah for the American Family" by Rabbi Martin Berkowitz. This page is an excellent example of the phonetic English which supports guests who are not literate in Hebrew.
The phonetically transliterated Hebrew-to-English Haggadah text is easy to understand, promotes inclusion, and facilitates active involvement of all Seder participants in the Jewish Passover Seder ceremony.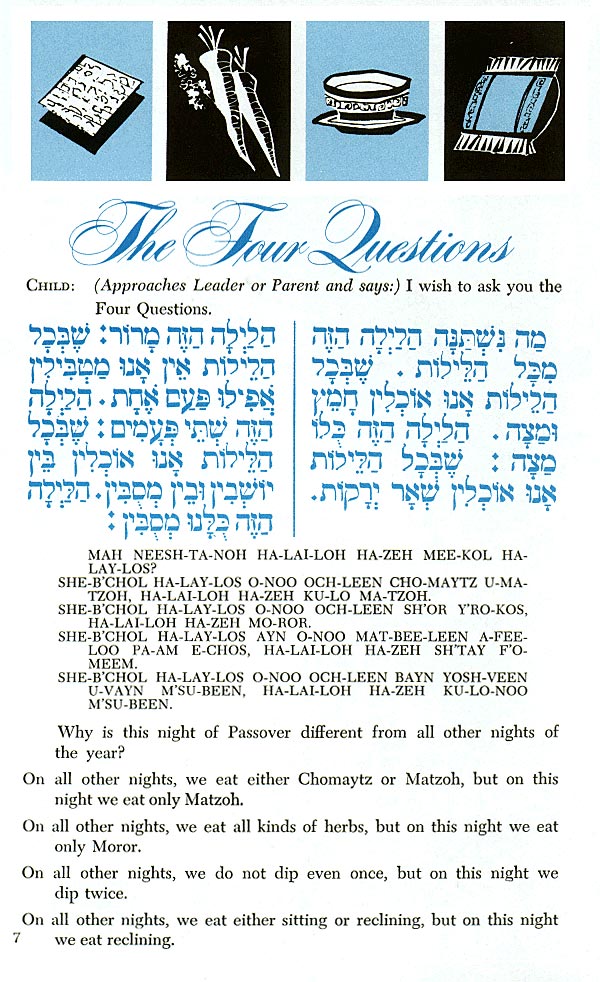 We sell ONLY BRAND NEW Haggadah Books by Rabbi Martin Berkowitz - Merion, Pennsylvania
Haggadah for the American Family
Genuine - Original - "The One You Grew Up With"
Presented by The Haggadah Institute · Jay E. Berkowitz · 20525 SW 82nd Court · Cutler Bay, FL 33189 · (305) 525-9759